National financial and housing experts made headlines at the tail end of 2022 with dire forecasts about the 2023 national real estate housing prices. We've come through the year with surprising strength and many of those experts have revised their forecasts to more accurately reflect what has transpired during 2023. The most recent Home Price Expectation Survey* resulted in the average housing price forecast for 2023 (nationally) to be a 3.32% appreciation instead of the 2.04% depreciation originally predicted.
Most experts focus on economic trends. When looking at 2022, most experts saw incredible price appreciation in the beginning of the year and expected price corrections to take place well into 2023. This expectation was coupled with rising mortgage rates, documented decline in activity and the longer market times that defined much of the later part of 2022 and led to the gloomy forecast. The reality of national home price appreciation through June of this year is below (remember that real estate reporting is typically several months behind):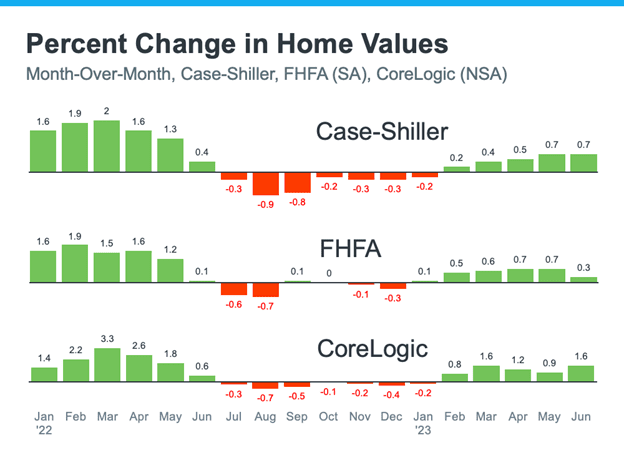 The price appreciation numbers for 2023 show an increase nationally owing to low inventory, buyers continuing to buy (despite rising rates) and strong competition for homes considered to be the "right" inventory. People literally had limited choice and sellers in many markets were in the driver's seat.
How do these numbers relate to the AMI market?
National predictions are important to know but not always relevant to our market. In Florida alone, there are many different markets: geographic markets, markets with more employment, and markets specific to housing type are three general examples. A good differentiator through the state (and one we can appreciate here on Anna Maria Island) is the difference in housing value between a single family home in an area with rental restrictions and a no minimum rental zone. You will find that there may be plenty of inventory in one segment and not enough inventory in another.
While AMI is seeing an uptick in inventory, many of these properties are in price ranges that are higher than what we saw in the past. Over the past five years, the average sold price on Anna Maria Island for single family homes appreciated 111%. This has shifted our real estate market into a luxury resort market that appeals to a slightly smaller base of buyers.
As additional concern is that we are sitting on too much inventory. To put this into perspective, let's take a look at the past five years of single family homes sales on Anna Maria Island: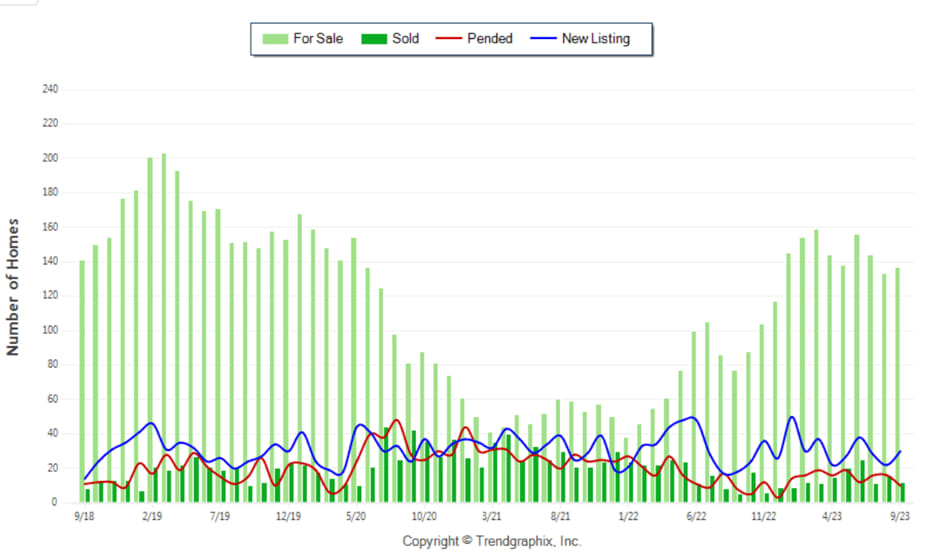 Over the past five years, we see a lot of homes available to sell in the light green bars, a consistent amount of properties coming on the market (blue line), a surge in activity in contracts written beginning in June 2020 and continuing to April 2021—and then a settling of contracts to approximately the same amount of sales we saw this time 5 years ago (red line). In the chart above, we also see that approximately 20 contracts had been written on a monthly basis until this year; our pending contracts numbers have declined and we now see less than 20 contracts a month.
This supports the perspective that 2023 is very similar to the type of market we had in 2018; so, the housing increases we saw in 2020 and 2021 have settled back into a market that has some properties that will move quickly, others that will stay on the market a little longer and others that may take a while to sell. The key difference between the 2018 market and the current market is a much higher average home sales price on the island of $2.285M over the last twelve months.
Taking a more detailed view at certain price ranges is critically important so that we can understand the true dynamics of each micro market and what is moving fast versus slower. As an example, between $2M and $3M we have 33 active properties and an average of 4 contracts per month being written. If you needed to sell your home right away, I would want you to be positioned better than your competition and would work closely with you to be sure that your home was one of the top properties available on the market. In general, while properties are selling at excellent prices, it can take longer to sell and in some cases we may be looking at a longer time frame. Each property is different and each home has its own unique position in the market.
In summary, national experts have reason to believe that the next years in real estate will be good years for home sellers and home buyers, with price appreciation reflecting consistent, normal growth. On the island, we now regularly command prices that are significantly higher than previous years. We offer many different options for buyers and sellers should take a careful look at the market with a real estate professional familiar with the Anna Maria market before placing their home on the market. If you have questions about purchasing or selling on Anna Maria Island, Sarasota or any of the barrier islands, please call me for a confidential appointment.